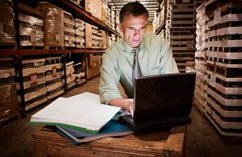 WrenchIQ.com is a new and exciting resource for warehouse managers and distribution professionals. It is a place for experts in the industry to share their expertise by posting articles, how-tos and opinion that helps people in the business learn about materials handling and logistics.
Everyone in the business is invited to contribute and will be credited and promoted in their area of custom essay uk expertise. This site has been built as a meritocracy. Those that contribute will receive priority and placement based on their participation.  (All articles are subject to editorial review.)
Professionals focused on selling to or working in the Logisitics and Warehousing industry will be highly motivated to become published on WrenchIQ.com. WrenchIQ.com is the one place where their expertise will be showcased. Individuals looking for their next promotion, Sales professionals looking to showcase products and capabilities, and consultants looking to demonstrate expertise and canvas for new clients will all link to and drive traffic towards articles they have authored on WrenchIQ.com
All areas of materials handling and warehouse management will be discussed. Topics include, but are not limited to:
Warehouse Safety & OSHA
Productivity
Slotting and Organization
Storage
Handling
Preventative maintenance
Packing & Consolidation
Staffing & Management
Training & Education
Shipping & Receiving
The site is privately held by a group of internet and logistics experts that have worked inside and beyond the warehousing and materials handling business.